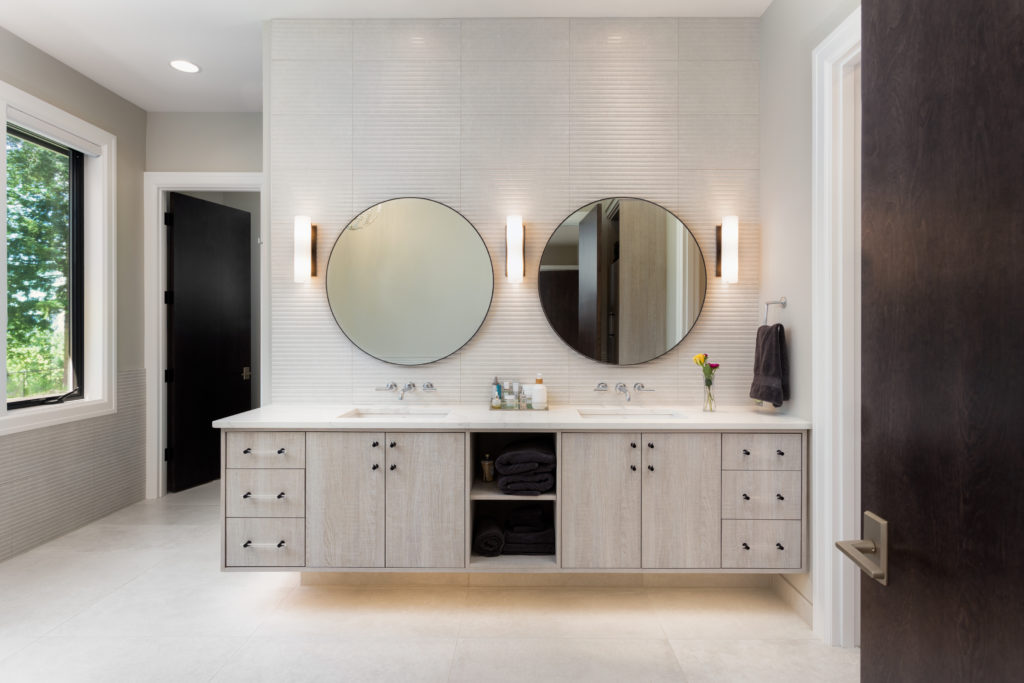 One of the most important elements in your bathroom space is lighting. It's easy to overlook this detail when you are focused on choosing the right tile, the best sink or the right shower setting. Choosing the right vanity lighting can help to enhance all of those details! The correct lighting is practical and aesthetic and can brighten up your area so that you can go throughout your daily routine with ease.
Our team at Progressive Builders has put together a few tips to help you choose the right vanity lighting for your bathroom.
Keep it Eye Level
If you're using sconces or pendants for lighting, you'll want to keep the lighting mostly at eye level. Shades are a great way to diffuse the light out in every direction. Doing this helps to disperse all the light evenly throughout the entire room.
Choosing the Type of Light
A simple way to upgrade the lighting in your bathroom is to place sconces on either side of your vanity mirror. With sconce lighting, you have the ability to add more layers and brightness to the space by hanging them throughout the room. Here are a few other ways to brighten up your bathroom:
Pendant lighting can add a unique touch to any bathroom. If you have a particular feature that makes it difficult to add lighting, a pendant light is a good alternative because they come in different shapes and sizes.
Recessed lights, also known as pot lights, are overhead and recessed into the ceiling. These fit into most bathrooms and are both traditional and budget-friendly. You can add sconces or pendant lights to add even more brightness if you need.
LED strip lights have recently become a popular trend. This type of lighting uses a bright white bulb that makes any room very bright. You can get them built into your vanity mirror or place them all along the walls. They are a great option if you're looking for a modern feel or love a clean and simple look.
If you're thinking of doing a bathroom remodel, contact Progressive Builders. We'll walk you through every step of choosing the right kind of lighting for your bathroom. Contact us today for a free consultation!